Loss Control Insights
4 Steps to Mat Maintenance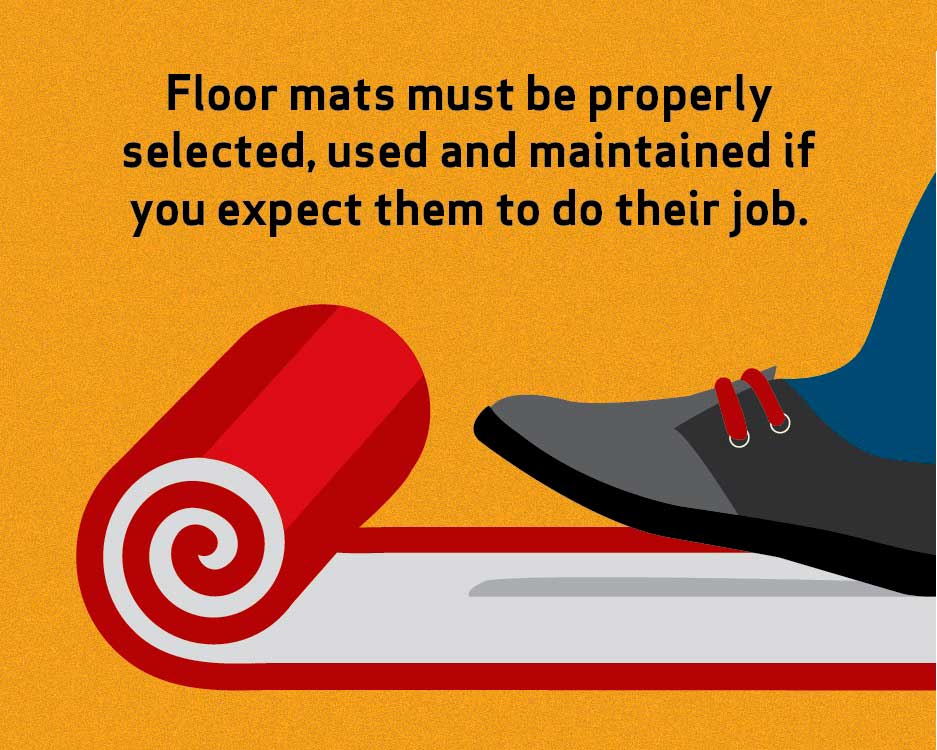 Too often, businesses have a "set it and forget it" attitude when it comes to floor mats. In reality, you should consider floor mats like any other tool used in your day-to-day operations. Mats must be properly selected, used and maintained if you expect them to do their job. Industry experts recommend the following 4-step approach to proper mat maintenance:
Walk Around Surveys— As part of any site inspection, EMC loss control professionals always look closely at the condition of floor mats. Among the potential problems, they look for are curled or torn edges, worn face material, buckling, soiled or saturated mats and mats that are out of position. These conditions could result in a slip, trip or fall accident. They are also conditions anyone in your organization can spot by taking the time to do a thorough visual inspection of mats. EMC recommends conducting these inspections on a daily basis; however, heavy traffic areas and snowy and wet conditions warrant more frequent inspections. Any problems noted should be addressed as soon as possible by your maintenance staff or mat service company.
Daily Cleaning— Every day, your mats collect dirt and absorb water that would otherwise be tracked into your facility. Vacuuming mats to remove surface debris or to extract water should be done on a daily basis. This is especially important in colder weather as people enter the building with ice melt residue, snow, sludge and other debris on their shoes.
Rotate Mats— Have a supply of mats available so soiled and damp mats can be rotated during the day if needed. Purchase and store additional mats or have your mat supplier leave extras.
Routine Deep Cleaning— Clean mats with a commercial carpet extractor to protect the backing and extend its life and performance. Whether the cleaning is done by your maintenance department or a mat service, routine cleanings such as these will help ensure that mats are doing their job day-in and day-out.
Make Mat Maintenance Part of Your Comprehensive Slip and Fall Prevention Program
When properly maintained, floor mats will help reduce the likelihood of slip, trip and fall accidents. However, mats that are unattended over time will most likely add hazards. The National Safety Council recommends including the following mat maintenance guidelines to your comprehensive slip and fall prevention program.
Establish specific procedures for placing, cleaning, removing and storing mats. Employees who place mats during inclement weather need clear instructions as to where and when mats should be put down and removed. Delays in putting mats down or placing them too far from doors may result in slippery entrance areas and allow water and dirt to be carried beyond the entrance, creating problems in another area.
Develop specific procedures for inspecting and checking the condition of mats and for maintaining them in safe condition.
Employees should be instructed to report unsafe conditions such as tears, curled edges and buckling as soon as possible. Employees should know how and where to report such conditions and should make a practice of straightening mats or eliminating other mat hazards whenever possible.
Inspection checklists should address mat placement and condition. This information can help reduce hazards and provide valuable details when investigating mat accidents.