Loss Control Insights
Nine Best Practices for Establishing a Near-Miss Reporting System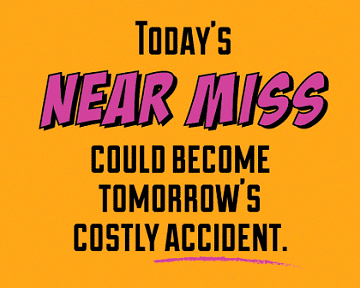 "Close call," says a worker who was within four feet of a tool falling from a scaffold. "Watch it," yells a supervisor who observes a worker trying to lift a piece of heavy equipment. Workplace incidents like these that could result in serious injury or damage happen every day. "Time to sit down and investigate what happened" is a much better response to these near-misses than saying "close call," "watch it" or breathing a sigh of relief. Investigating these near-misses can help prevent them from turning into an injury or fatality.
A near-miss is an unplanned event that did not result in an injury, illness or damage but had the potential to do so. Through a formal accident investigation procedure, organizations can determine the root cause of the near-miss and take action to prevent recurrence. If left unchecked, today's near-miss can become tomorrow's accident. Being proactive in recognizing and reporting near-miss incidents can significantly improve worker safety and enhance an organization's safety culture.
Establishing a Near-Miss Reporting System
The following 9 best practices are based on the experience of EMC risk improvement professionals and resources from the National Safety Council and the Occupational Safety and Health Administration (OSHA).
Establish a reporting culture reinforcing that every opportunity to identify and control hazards, reduce risk and prevent harmful incidents must be acted upon.
The reporting system should be nonpunitive and anonymous.
Conduct near-miss investigations within 24 to 48 hours of the incident while people's memories are fresh about what happened and how the incident could have been prevented.
Investigate near-miss incidents to identify the root cause and the weaknesses in the system that resulted in the circumstances that led to the near-miss.
Use the "5 whys" to identify the root cause of near-misses. In this question- asking technique, the investigator asks the same question repeatedly—usually "What caused or allowed this condition/practice to occur?" or simply "Why?"—until the root cause(s) are found.
Use investigation results to improve safety and hazard control. These investigations allow for training, feedback on performance and a commitment to continuous improvement.
Educate employees about the reason why near-miss reporting is a necessity, the important role they play and the reporting process.
Consider incentives that encourage reporting and enhance the safety culture. An example of a good incentive is one that recognizes participation of the workers in the recognition and reporting of hazards.
Include near-miss reporting training for new employees as part of their orientation.
Near-Miss Investigation Works
The National Safety Council identified the following organizations that excel at safety and have close to zero incidents by using near-miss reporting in various ways.
A petroleum company implemented a hazard identification initiative and gained greater involvement of all employees in risk assessment and work planning. Employees at all levels spot and fix problems before they result in harm with the added benefit of greater responsibility for their work.
A manufacturer uses event and near-miss analysis as a key to achieve the organization's objective of zero incidents. The event system incorporates detailed information on each incident that generates lessons to be shared throughout the organization.
A fertilizer manufacturer uses leading indicators at individual and department levels, reinforcing personal involvement and improving the perceptions individuals and work teams have about their control and management of injuries. The promotion of near-miss reporting and rewarding diligent employees who report near-miss incidents, or unsafe conditions or acts, is key.
Near-Miss Reporting Begins With a Positive Safety Culture
Developing a strong safety culture has the single greatest impact on incident reduction in the workplace. A company with a strong safety culture typically experiences few at-risk behaviors. Consequently, they also experience low incident rates, low turnover, low absenteeism and high productivity.
Count on EMC® to assist your organization with developing a strong safety culture and the related tools for accident and near-miss investigations. You'll find a variety of resources on our Safety Management and Culture webpage.