Loss Control Insights
Outdoor Slip and Fall Problems and Solutions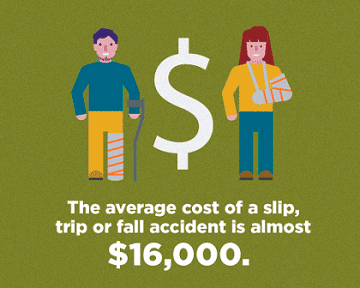 Summer usually brings an increase in walkway traffic, which could result in wear and tear of sidewalks. Unless you look at those areas now, the damage could soon disappear under snow and ice and result in a costly slip, trip or fall.
How costly can some of those losses be? According to the National Safety Council, the average cost of a slip-, trip- or fall-related accident is almost $16,000, and that does not include indirect costs such as higher insurance rates, reassignment of personnel, loss of productivity and potential legal fees. Reducing the likelihood of slip, trip and fall losses begins with a comprehensive walkway audit.
Solutions to Common Walkway Problems
The key to conducting an outdoor slip and fall audit is noting potential problems and recommending solutions. Some of the most common problems EMC risk improvement professionals see when conducting audits are:
| Problem | Solution |
| --- | --- |
| 1. A downspout discharge is directed across a walking surface, which can lead to wet or icy conditions in winter. | Channel the runoff underneath a walkway. |
| 2. Wooden or aluminum ramps can be slippery when wet or snowy. | Install traction strips on the walking surfaces of ramps or apply another slip-resistant treatment such as lacquer and sand. |
| 3. Stairs that have no handrails or insufficient handrails can increase the risk of a trip or fall. | Approved handrails should be installed on at least one side of steps with four or more stairs. Handrail construction should be rounded to enable a firm grip and mounted so there is at least a three-inch clearance between the handrail and wall. |
| 4. Chips or deteriorated stairs create a trip and fall hazard. | Deteriorated stairs should be repaired or replaced. Damaged stair treads should be replaced with slip-resistant inserts. |
| 5. Sidewalk sections that have changes in elevation greater than one-half inch create a tripping hazard. Even a quarter-inch elevation can cause trips, especially among the elderly. | If possible, rework concrete to provide a smooth transition between sections. If reworking concrete is not an option, provide warning markings or cones when dealing with seasonal concrete heaving. |
| 6. Vehicles that overlap the sidewalk can force pedestrians to walk on adjacent surfaces, which may be dangerously uneven. | Brightly marked tire stops should be added where parked vehicles potentially can reduce the clear walking path to less than three feet wide. |
| 7. Landscaping borders and raised edges along walkways can cause trips, especially when they are difficult to see or are located in areas where shortcuts are anticipated. | Adjust landscaping practices so borders are not necessary, or place obstacles such as garbage receptacles and potted plants in such a way they prevent shortcuts. |
| 8. Potholes in concrete can not only create tripping hazards, but they can also collect water, which can freeze and lead to a slip accident. | Repair potholes as soon as possible. Gravel may be added as a temporary solution until more permanent repairs can be made. |
| 9. Gravel parking lots with inadequate gravel thickness can lead to pooling water, which can freeze and create a slip hazard. | Apply additional gravel to high-traffic areas with gravel layers. |
| 10. Unpainted curbs or curb ramps along high-traffic sidewalks and other high-traffic areas may be difficult to see, creating a trip hazard. | Paint curbs and curb ramps with nonslip yellow paint. In addition, consider reworking curb areas by installing a curb ramp with flared sides and a contrasting color. |
| 11. Gaps between sidewalk sections can catch heels, creating a tripping hazard. Large gaps collect water, which can aggravate frost heaving. | Large cracks should be cleaned and filled with appropriate material. In some cases, rope caulking may be necessary to use as a base to keep the filler material in place. |
| 12. Vehicles parked in no-parking areas may obstruct access to sidewalks and stairs, creating potential trip hazards. | Make sure pavement markings and signage are adequate and enforce parking rules. |
Remember, walkway audits are just a snapshot in time. Although fall is a good time to complete the audit, an annual audit may not be enough to detect changing conditions that affect your walkway throughout the year.
Need to Know More About Slip and Fall Audits and Prevention?
Visit the loss control section of the EMC website to find these resources to develop an effective exterior and interior slip, trip and fall prevention program: