Loss Control Insights
Three Key Elements for Atmospheric Testing of Confined Spaces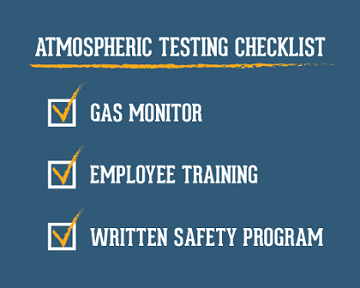 Converging inward walls, tapered floors, unguarded machinery and live wires are just a few of the hazards workers may find when in confined spaces. However, there is a hazard associated with working in confined spaces that is not visible to the eye—the lack of sufficient oxygen and/or the presence of toxic or explosive gases.
The Occupational Safety and Health Administration (OSHA) developed a standard to protect the safety of those working in confined spaces. A confined space is any space that is large enough and configured for an employee to enter and perform assigned work with limited or restricted means for entry or exit. It is not designed for continuous employee occupancy.
One important element of the OSHA standard is procedures for atmospheric testing to verify that the air is safe for occupancy. There are three components of effective atmospheric testing—the right equipment, proper training and a confined space safety program.
The Right Tool for the Job
You can't rely on your sense of smell to detect hazardous gas levels in confined spaces. You need to use a calibrated direct reading gas monitor designed to detect chemicals that may be present in the area you are testing. EMC risk improvement professionals recommend monitors that:
Have the capability to monitor various types of gases. A basic three-gas monitor is acceptable.
Are equipped with internal or external pumps to draw air samples back to fresh monitoring points.
Have the capability to continuously monitor the confined space to ensure safety after entry.
Have bright visual and/or loud alarms to alert workers of hazardous situations.
Contain internal data logging capabilities to help comply with OSHA documentation requirements.
Regardless of the type of monitor you use, always remember to maintain them according to the manufacturer's requirements.
Better Trained Employees Make for a Safer Work Environment
Gas monitoring equipment is only as good as the people who use it. Training employees on atmospheric testing procedures is essential when working in a confined space. Training should focus on the following topics:
The common gases encountered in confined spaces, including information about deficient (asphyxiation hazard) or enriched (explosive hazard) oxygen levels.
The regulations enacted under 29 CFR 1910.146 and how to utilize gas detection to meet those requirements.
The various types of sensors used in confined spaces, such as catalytic diffusion, electromechanical and infrared sensors.
The functions and applications of portable instruments, including calibration stations and docking systems.
The proper methods used to calibrate and care for the monitoring instrument, and how to troubleshoot instrumental problems and replace sensors and battery packs.
Proper use of forced air ventilation techniques to improve the quality of air in the confined space.
The importance of having monitor readings reviewed by a certified safety professional.
EMC can assist in your training program with online resources, including confined space evaluation forms, safety program templates and more. Training on specific monitoring instruments is available from the equipment manufacturer.
Make Atmospheric Testing Part of Your Safety Program
A written confined space safety program is essential to protecting employees. Some of the items that should be included in a written confined space safety program include:
Safe entry procedures
Atmospheric testing procedures
Training entrants, attendants and entry supervisors
Procedures for continual monitoring of confined space conditions during entry
Systems for the preparation, issuance, use and cancellation of entry permits
Policies for coordinating entry operations when multiple employers or outside contractors are working simultaneously in a confined space
Procedures for summoning rescue and emergency services
Annual program review to make sure it's working properly
Unique Solutions for a Unique Worksite
Working in confined spaces presents unique safety challenges. These spaces require precautions to protect workers from the various hazards they will face, including the lack of oxygen and/or the presence of hazardous gases. Using the right gas monitoring devices, training employees on the use of those devices and proper testing procedures and having a written confined space safety program will keep workers safe.