Loss Control Insights
Three Strategies to Prevent Dehydration in the Workplace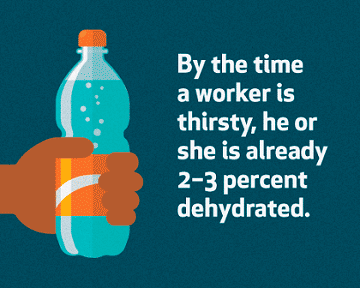 If you want to learn how to keep your employees safe when working in summer heat, take a tip from the website Desert Survivors: "The most critical elements to consider for survival in the desert are water and temperature. If you have plenty of water and can avoid being exposed to extremes of hot and cold, your chances of survival are quite good."
Although your employees might not be trekking through a desert, they may be exposed to hazardous conditions if they work outside in the heat. Those conditions can easily result in dehydration. The more dehydrated a worker becomes, the more likely he or she is to suffer heat exhaustion or stroke.
Prepare Workers for Summer Heat
Take the necessary steps to help all workers acclimate to the heat, particularly if the weather turns hot suddenly.
Gradually increase workloads and allow more frequent breaks during the first week of outdoor summer work.
Closely supervise new employees for the first 14 days until they are fully acclimated to weather conditions.
Permit only those workers acclimated to heat to perform the more strenuous tasks and rotate physically demanding job tasks among acclimated workers.
Combine Access to Water and Breaks to Combat Dehydration
Access to plenty of water and avoiding continued exposure to extreme heat is your best defense against dehydration.
Provide plenty of cool drinking water and disposable cups in convenient, visible locations close to the work area.
Actively encourage workers to drink small amounts of water often—four cups of water every hour while the heat index is 103 to 115°F.
Avoid alcohol, caffeinated drinks or liquids containing large amounts of sugar.
Establish and enforce work/rest schedules to control heat exposure and allow workers to recover. Provide air conditioned or shaded areas close to the work area for breaks. If you do not have access to shade or air conditioning, set up temporary shade.
Schedule heavy tasks earlier in the day or when the heat index is lower.
Permit only those workers acclimated to heat to perform the more strenuous tasks.
Provide workers with cooling measures such as water-dampened clothing, cooling vests or reflective clothing.
Include Hydration Awareness in Your Safety Training
The more aware your workers and supervisors are about the dangers of dehydration, the more likely they are to spot a problem before it worsens.
Schedule safety meetings throughout the summer (and the rest of the year) to remind workers how to avoid heat exhaustion.
Educate workers and supervisors how to identify the symptoms of dehydration. These include altered behavior; faintness that is not relieved by lying down; cold, clammy skin or hot, dry skin; and little or no urination.
Let workers know who to call for medical help.
Make sure workers know where water is located at the job site and how much to drink during the day.
Encourage workers to wear loose, lightweight and light-colored clothing.
For additional information, visit OSHA's Campaign to Prevent Heat Illness in Outdoor Workers.