Loss Control Insights
A Guide for Hiring Safer Drivers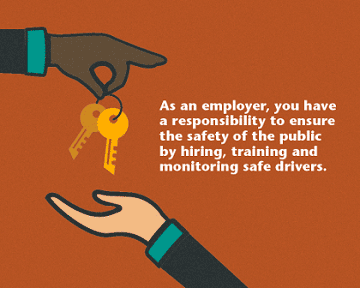 As the United States truck driver shortage intensifies, it's important for fleet managers to be reminded of good hiring practices. The challenge for fleet managers will not only be to fill increasing numbers of vacant positions, but also to ensure safe drivers are behind the wheels of company vehicles. From the interview to requirements for employment, every fleet should have a clear driver hiring process.

What are the Requirements for Hiring Drivers?
Formal hiring guidelines are crucial to ensuring every driver has been properly and consistently vetted. EMC recommends the following minimum requirements for hiring truck drivers:
Applicants must have a valid license for the vehicle type and load hauled
No chargeable accidents in the past year
No DUI or DWI convictions in the last five years
No more than two non-serious moving violations in the past three years
Minimum of three years of verifiable driving experience with similar vehicles
How to Review an Applicant's Motor Vehicle Record
Meeting the minimum requirements for a driving position is only the beginning of the vetting process for new hires. A thorough review of an applicant's motor vehicle record (MVR) will reveal even more. Past violations noted on the MVR are often an indication of the potential for future accidents and violations. According to the American Transportation Research Institute, the occurrence of one of the following moving violations increased the likelihood of becoming involved in a crash by the following amounts:
Failure to use turn signal: 96%
Improper passing: 88%
Improper turn: 84%
Improper or erratic lane change: 80%
Speeding more than 15 mph over the speed limit: 67%

Beyond identifying violations, the MVR will provide information on the applicant's license endorsements and any restrictions they may have. You need to make sure your applicants have the necessary endorsements for the cargo that they will be hauling. For example, if your company transports hazardous materials, drivers will need a HAZMAT endorsement.
How to Conduct Driver Interviews
In addition to a thorough MVR review, a well-organized interview will help you better assess the values, personality and work ethic of potential drivers. These soft skills are a solid indication of what often characterizes a long-term and valued employee. Ask open-ended questions during the interview about the candidate's driving history and what they have done to improve their driving skills.
You may want to ask applicants to complete a written test and a driving test as part of the interview process. If you decide to hire the applicant, consider hiring them on a temporary basis to make sure their driving skills and habits are a good fit. Remember, you are hiring someone that represents your company, protects the public from accidents and will ensure the safety of your loads. The more comprehensive the hiring process, the greater the likelihood of putting the right person behind the wheel.
Provide Frequent Driver Training
Driver error is the No. 1 reason for truck accidents. As an employer, it is your responsibility to make certain drivers receive ongoing training to ensure their safety and the safety of the public. To help your training efforts, you'll find a full array of driver training materials on the Loss Control section of EMC's website. These include online training programs, posters, tech sheets, safety program templates and more.
Use EMC's SuperVision Driver Monitoring Service
Driver monitoring is an effective way to know if you are exposing your business to loss revenue, legal costs and higher insurance premiums that could result from accidents. EMC can help with SuperVision, a new service available at a discounted rate to policyholders. SuperVision is specifically designed for smaller fleet operators who can't justify the expense of a full-time employee to monitor drivers. Using SuperVision, you'll know when a driver receives a violation and have an easier time picking out unsafe drivers. Ask your EMC loss control representative for more information about this valuable service.