Loss Control Insights
Put the Brakes on Distracted Driving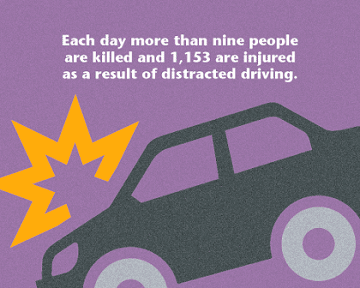 Distracted Driving Costs
Consider the financial impact a distracted driving incident could have on your organization.
The driver and company that owned a vehicle involved in an accident were found liable for nearly $22 million after testimony indicated that the employee may have been on a cell phone at the time of an accident.
A lumber company settled for $16 million after a salesperson talking on his cell phone rear-ended a vehicle and disabled an elderly woman.
A state trooper in Illinois responding to an accident exceeded 120 mph on a highway while talking on the phone to his girlfriend and using email before losing control of the car. The resulting crash killed two teenage sisters, whose family was awarded $8 million.
As an employer, you have a responsibility to protect workers, the public and the financial stability of your organization by taking the necessary steps to change the habits of your drivers.
Eight Tips for Putting the Brakes on Distracted Driving
The Governors Highway Safety Administration recommends sharing the following distracted driving prevention tips with your employees:
Turn it off and stow it—Turn your phone off or switch it to silent mode before you get in the car, then stow it away so that it's out of reach.
Spread the word—Record a message on your phone that tells callers you're driving and will get back to them when you're off the road, or sign up for a service that offers this feature.
Pull over—If you need to make a call, pull over to a safe area first.
Use your passengers—Ask a passenger to make the call or respond to a message for you.
X the text—Don't ever text and drive, read your email or take a picture or video while driving. It's dangerous and against the law in most states. Even voice-to-text isn't risk free.
Know the law—Familiarize yourself with state and local laws before you get in the car. Some states and local governments prohibit the use of handheld cell phones in addition to texting.
Prepare—If using a GPS device, enter your destination before you start to drive. If you need help while driving, ask a passenger to assist you or pull over to a safe location to change your GPS or review your map/directions.
Focus on driving—Multitasking behind the wheel is dangerous. Refrain from eating, drinking, reading, grooming, smoking and any other activity that takes your mind and eyes off the road.
A Distracted Driving Policy Is Your Best Defense
Providing helpful tips to employees is just a start. Issue a comprehensive policy to curb distracted driving in the workplace. Such a policy should include education, monitoring and discipline. Automotive Fleet, the car and truck fleet leasing management magazine, recommends the following approach:
Clearly define distracted driving and consequences for violations—Be clear on driver expectations and what actions would be taken if a violation occurs. To ensure employees get the message, call a staff meeting to distribute and discuss the policy. At the conclusion of the meeting, have employees sign and acknowledge that they've read and understood the policy.
Secure senior management buy-in—Fleet managers need senior management to support and adhere to the distracted driving policy, otherwise companywide compliance is unlikely.
Be consistent with policy enforcement—Policy enforcement must be consistent across the board with no exceptions. Effective policy enforcement means enforcing the policy in a manner that does not give rise to any inference of employee discrimination.
Reinforce the policy on an ongoing basis—Restate the policy and send it out to drivers on an annual basis, requiring drivers to review and sign it. This keeps the importance of the policy in the forefront.
Monitor compliance—If employees operate company vehicles and use company-issued phones, one option to deter distracted driving incidents is to require employees to sign a privacy waiver that allows for GPS tracking. Check with company legal counsel about rules governing employee privacy before implementing monitoring.
Create a safe environment for employees to report policy violations—Employees need to feel comfortable reporting distracted driving instances that they are aware of.
Perform periodic policy reviews—The emergence of new technologies will require changes to fleet policy. Your policy should be flexible enough so as technology continues to change the policy can be adjusted accordingly. Ensure business operations, such as driver dispatch communications, do not make it difficult or impossible for drivers to comply with the distraction policy.
The Problem Is Everywhere, But So Is the Solution.
How prevalent is distracted driving? Take a look for yourself. You'll see drivers on their phones. You'll see them attending to children in the back seat. You'll see them checking directions on their GPS devices. You'll catch them eating. You'll see them daydreaming. But don't take too long to look, because that would make you a distracted driver as well. Distracted driving is a bad habit many drivers have developed, and the best way to put the brake on it is through continued driver education and monitoring. Count on EMC® to help you with the following online materials: