Loss Control Insights
Storing Flammable Liquids Safely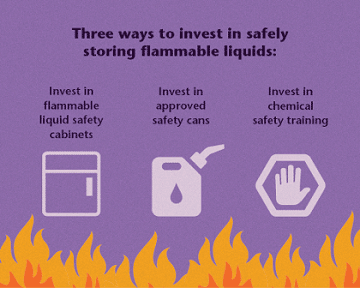 Larry Readout, Senior Safety Engineer
Every fire has three necessary ingredients–heat, oxygen and fuel. Control the impact of any one of these and you have minimized the likelihood of a fire. Without question, the one ingredient that is most under your control is fuel. It's not unusual to see unapproved flammable safety cans, open fire safety cabinets or oily rags left near a heat source during safety audits. Leaving that one ingredient unchecked invites a potentially deadly and costly loss.
U.S. fire marshals respond to an average of 160,900 fires each year that start with ignition of a flammable or combustible liquid, according to the National Fire Prevention Association. Those fires result in an estimated 454 deaths, 3,900 injuries and $1.5 billion in direct property damage annually. In many cases, the damage could have been reduced had companies and organizations made the appropriate investment in equipment, processes and training to properly store flammable chemicals.
Flammable Liquid Safety Cabinets
Organizations using flammable and combustible liquids should have a designated storage area. Flammable liquid storage cabinets protect against flash fires, prevent excessive internal temperatures in the presence of fire and contain spilled flammable liquids to stop the spread of fire. Take the following precautions to ensure that your safety cabinets provide the highest level of protection.
Keep the cabinet doors closed at all times.
Cabinets must be clearly labeled to indicate that they contain flammable materials and that open flames and ignition sources must be kept away.
If the storage cabinets have ventilation openings, make sure they are sealed or the cabinet is vented outdoors.
Flammable liquid cabinets are regulated by OSHA. Check the cabinet specifications to determine how many gallons of flammable liquid can be safely stored in that cabinet.
If using more than one cabinet, check the specifications for spacing requirements between cabinets.
Flammable liquid storage rooms should be provided for quantities that cannot be stored in approved flammable liquid storage cabinets.
Approved Safety Cans
One gallon of vaporized gasoline can explode with the same force as 20 sticks of dynamite. Safety cans are constructed to minimize the potential dangers of leaks, spills and ignition of flammable or combustible liquids. Although they may be a little more expensive than typical plastic cans, these cans are constructed of steel or high-density polyethylene and have additional safety features such as:
Pressure relief venting to guard against rupture
Spring-loaded, self-closing lids to control vapors and prevent accidental spills
Spark arresting screens to prevent flashback ignition of vapors inside the can
Fire Safety Training
Your employees are your first line of defense for controlling flammable liquids in your workplace. Incorporate fire prevention training in everything from new hire orientation to specific task and annual refresher training. Training should include topics such as fire drills, first aid procedures, understanding safety data sheets, use of fire suppression equipment and personal protective equipment. Training and on-site posters should also remind employees to:
Always dispose of oily rags in appropriate containers
Never stack flammable liquids on the floor or in open aisles
Never store flammable liquids near emergency exits
Keep all flammable liquids away from heat and direct sunlight
Most importantly, instruct employees to report any of the following unsafe conditions in chemical storage areas:
Improper storage of chemicals
Leaking or deteriorating containers
Spilled chemicals
Temperature extremes (too hot or cold in storage area)
Blocked exits or aisles
Combustible material accumulation
Fire suppression equipment blocked, broken or missing
Lack of information or warning signs
Safe Storage of Flammable Liquids Is Worth the Investment
It only takes a few minutes for flammable liquids to ignite and destroy your business. To minimize that risk, you should invest in the proper equipment, processes and training. Start with a walkthrough of your building to identify any deficiencies in your current storage program, or contact an EMC loss control professional to complete a safety audit of your operation. You'll also find the following helpful resources online: