Loss Control Insights
Plan to Be Open for Business After a Loss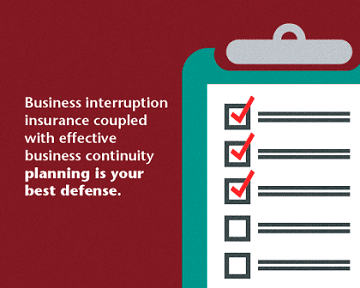 What are your organization's most important business functions? Are there pieces of equipment your organization depends on day in and day out? Are there suppliers that provide crucial materials or services that you simply can't be without? Are there employees who possess specialized knowledge or skills that are essential to your business operations? Loss control professionals refer to these items as "critical elements" to your success, and you should have a business continuity plan in place to restore these elements quickly after a disaster.
Start by Identifying Critical Elements
What happens when these critical elements are compromised because of a man–made or natural disaster? Unless you have identified the components and documented ways to overcome their absence, you would be in panic mode and your business could suffer severe financial losses. Business interruption insurance, coupled with effective business continuity planning, is your best defense.
Consider what would happen to a donut shop in the event that its fryer was destroyed. How would they continue to serve their customers? A business continuity plan would identify the fryer as a critical component and document ways to compensate in the event of a loss. For example, one option might be to develop a relationship with a commercial bakery in the area who might let you use its fryers in the off hours or subcontract the donut making to another shop in the area. What if the owner/baker was injured in an accident and could not return to work for several weeks. Who would make the donuts? A business continuity plan identifies the need for cross–training employees long before such a catastrophe would happen.
Business Interruption Insurance
Added to your property/casualty policy, business interruption insurance provides business income lost as a result of an event that interrupts the operation of your business, such as a fire or natural disaster. However, insurance alone cannot ensure the viability of your business after such an event. Without a predetermined plan to resume critical operations, most organizations find it difficult to survive without their critical components.
It's Well Worth Your Time
Whether you are a donut shop or a manufacturer, a service business or a contractor, EMC loss control professionals can help you identify your critical elements and recommend possible actions to take now or after a loss to resume operations as quickly as possible. Using the Insurance Institute for Business & Home Safety Open For Business planning tools, you can easily document your business continuity plan.
Identifying critical elements and determining appropriate action steps can be a complex and time-consuming process. However, the time invested can reduce the stress and confusion you'll face after suffering a loss. You'll find the following business continuity planning tools and resources online