Loss Control Insights
Five Precautions to Take When Removing Rooftop Snow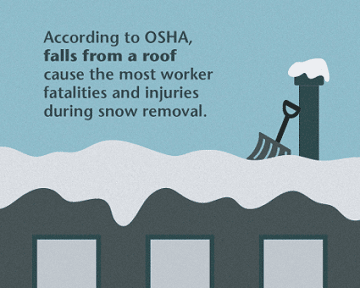 Working on rooftops is dangerous, but add snow and ice and the risk of a fall increases even more. The Occupational Safety & Health Administration (OSHA) reports that falls from a roof cause the most worker fatalities and injuries during snow removal. Last winter, at least six workers fell through skylights while removing snow from roofs during a particularly severe winter storm in New England. This prompted Ted Fitzgerald, regional director for public safety of the U.S. Department of Labor, to urge employers to issue precautions before sending workers on roofs.
With winter in full swing and snow beginning to pile up on roofs, it's time to review some of those precautions:
Keep your feet on the ground—If possible, keep workers on the ground rather than sending them up on a roof. Several rooftop snow removal techniques can be accomplished with feet firmly planted on the ground. Consider using a commercial-grade deicer that can be sprayed on roofs to help melt snow. Snow rakes are another option if workers can reach the roofline from the ground.
Practice ladder safety—Take extra precaution when using ladders on wet and icy ground. Make sure that the ladder is level and secure, even if that means having a coworker serve as a spotter for the person climbing the ladder. You'll also want to check the rungs for ice and clean the snow from your shoes before mounting the ladder. Never use a snow rake or shovel while standing on a ladder. This increases the risk of losing your balance and falling.
Watch for electrical hazards—Working on a roof puts workers in close proximity to power lines. OSHA recommends staying at least 10 feet from any power lines, wires or other conductors. Make sure that all electrical-powered equipment you use is grounded and you are wearing appropriate personal protective equipment.
Fall protection equipment is a must—Nearly 90 percent of fatal falls occur when no fall protection system is in place or when fall protection systems are used improperly. If you are working on a roof, use appropriate fall protection as you would any time you are working from heights.
Protect people on the ground—Bystanders can be trapped under snow falling from roofs, so mark a safe work zone in the snow removal area. If possible, shovel snow into an area with less pedestrian traffic and mark any trip hazards that may be covered by that snow. This could include pipes, landscaping barriers and other obstructions that may not be seen once covered with additional snow.
Removing snow from roofs may help prevent structural problems or potential roof collapses, but it creates a new set of risks. Don't be a statistic this winter.