Loss Control Insights
Equipment Theft Prevention Tips from the Pros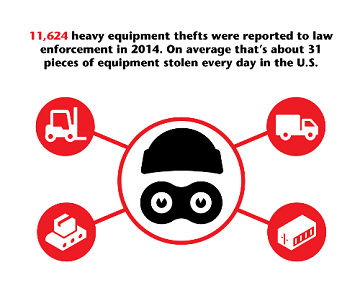 A total of 11,624 heavy equipment thefts were reported to law enforcement in 2014, according to the NICB 2014 Heavy Equipment Theft Report. That's an average of 31 pieces of equipment stolen every day in this country. Unfortunately, not all of these stories have a happy ending as only about 23 percent of stolen equipment is ever recovered.
NICB Construction Equipment Theft Prevention Strategies
To help reduce the frequency of equipment theft, NICB urges contractors to incorporate theft prevention strategies into their business practices and recommends the following:
Install hidden fuel shutoff systems.
Remove fuses and circuit breakers when equipment is unattended.
Render equipment immobile or difficult to move after hours or on weekends by clustering it in a "wagon circle." Place more easily transported items, such as generators and compressors, in the middle of the circle surrounded by larger pieces of equipment.
Maintain a photo archive with a list of the PIN and component part serial numbers of each piece of heavy equipment. Stamp or engrave equipment parts with identifying marks, numbers or corporate logos.
Use hydrolocks to fix articulated equipment in a curved position, preventing it from traveling in a straight line.
Use sleeve locks to fix backhoe pads in an extended position, keeping wheels off the ground.
EMC Equipment Dealers Theft Prevention Strategies
EMC loss control experts suggest a comprehensive layered theft prevention program for equipment dealers that includes perimeter barriers, inventory controls, exterior lighting and physical security.
Alarm systems are only as good as the law enforcement response time that is available in your area, and security cameras provide little theft deterrence. Physical barriers work best. Surround your valuable equipment with a barrier that does not allow the equipment to be removed easily such as posts, bollards or even boulders. Chain-link fences are easily cut and provide little deterrent to a determined thief.
In addition to physical barriers, train your employees to remove keys from equipment, be aware of situations that could lead to theft and report any stolen equipment as soon as possible.
Be sure to register your equipment through the National Equipment Register to increase the likelihood of recovering your stolen equipment in the event of a theft.
Reporting Stolen Equipment
If a piece of equipment is stolen, report it to local law enforcement immediately. Be sure to also file a report with the NER using this form, or by calling 866-6-NERUSA.
Additional Resources
Check out these additional resources to help you reduce the likelihood of heavy equipment theft: