Loss Control Insights
Does Your Protective Eyewear Fit the Job?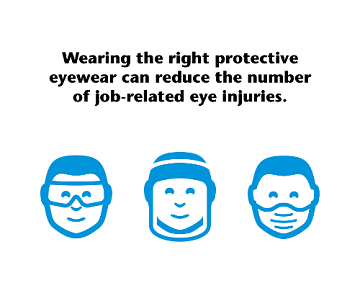 Ninety percent of eye injuries can be prevented through the proper use of personal protective equipment (PPE). The National Institute for Occupational Safety and Health reports about 2,000 U.S. workers sustain job-related eye injuries that require medical treatment each day. One way to reduce this number is to educate employees about the importance of wearing protective eyewear. But an even more important precaution is to make certain workers are equipped with the right kind of eye protection.
Choosing the Right Eye Protection for the Job
Not all eye protection is the same. When selecting eye protection for your employees, consider the following guidelines from the American Optometric Association (AOA):
Safety glasses with side protection are most appropriate for employees working in areas with particles, flying objects or dust.
Goggles that provide a secure shield around the entire eye are the preferred eye protection device for employees working with chemicals.
Employees working in areas with hazardous radiation such as welding, lasers or fiber optics must use special purpose safety glasses, goggles, face shields or helmets designed for the specific task in which they are involved.
Protective eyewear should not only fit the job, but also the employee. Uncomfortable eyewear is often cited as a reason why employees do not wear the devices. The AOA also recommends that eyewear be properly maintained, citing that scratched and dirty devices reduce visibility and may contribute to accidents.
Protect Your Most Valuable Asset
Your employees are your most valuable asset. Provide them with what they need to do their jobs safely, and that includes protective eyewear for each individual and his or her workstation. According to the U.S. Department of Labor, more than 50 percent of workers injured while wearing eye protection thought the eyewear had minimized their injuries. But nearly half the workers also felt that another type of protection could have better prevented or reduced the injuries they suffered. Make sure your employees' eyes are protected by completing the Occupational Safety and Health Administration's (OSHA) mandated PPE analysis of your workplace. For additional information about PPE, visit the Personal Protective Equipment page on EMC's loss control website.