Loss Control Insights
Identifying and De-Escalating Workplace Violence (updated April 2021)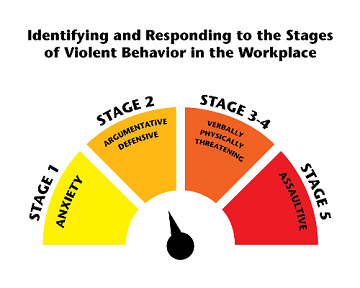 In 2015, a television journalist and her cameraman were murdered on live TV by a former coworker. For every act of workplace violence that gets this level of attention, many more cases go completely unnoticed. According to the Occupational Safety and Health Administration, two million American workers report being victims of some form of workplace violence each year.
Are You at Risk of Workplace Violence?
Although incidents of workplace violence have been reported at nearly every type and size of business, some employees are at greater risk. Among them are people who exchange money, people who work with the public, delivery drivers, healthcare professionals, public service workers, customer service representatives, law enforcement personnel and those who work alone or in small groups. A zero tolerance policy toward workplace violence is a necessary component of any prevention program. Employees should be trained and ready to reduce these types of incidents by understanding how to recognize and de-escalate a potentially violent situation.
Identifying and Responding to the Stages of Violent Behavior
Workplace violence rarely begins with the violent act. The act is the culmination of several stages of aggressive behavior. The better attuned you are to identifying these stages and responding appropriately, the greater the likelihood of defusing a potentially dangerous situation.
What to Look for:
How to Respond:
STAGE 1: ANXIETY
The individual you are dealing with begins drumming their fingers, tapping a pencil, breathing rapidly and showing signs of tension and discomfort.

Be nonjudgmental and empathetic. Ask supportive questions and offer your full attention to alleviate their anxiety.
STAGE 2: ARGUMENTATIVE/DEFENSIVE
During this stage, people may become disrespectful and belligerent, or start to challenge authority.

Give simple, reasonable directions (five words or less). Do not make threats. Provide consequences for the aggressor's choices.
STAGE 3-4: VERBALLY/PHYSICALLY THREATENING
Individuals begin to make verbal threats of physical violence or position themselves in an intimidating manner.

Follow predetermined emergency procedures, including seeking immediate assistance. Avoid being alone.
STAGE 5: ASSAULTIVE
There is physical contact between you and any part of the aggressor's body.

Seek safety. Implement emergency response procedures and contact law enforcement.


Preventing Workplace Violence Is an Ongoing Activity
Training employees on ways to de-escalate violent behavior is only part of a comprehensive workplace violence prevention program. Other elements of effective programs include:
Installing video surveillance, extra lighting, alarm systems and minimizing access to the building
Providing drop safes to limit the amount of cash on hand
Instructing employees not to enter any location where they feel unsafe
Conducting follow-up assessments after any act of workplace violence
Workplace Violence FAQ
Q: What forms of behavior are encompassed by the term "workplace violence"?
A: Most people immediately think of active shooter situations as workplace violence. In reality, there are other more common forms of violence that are not as well publicized but can be as destructive and painful for those involved. These violent acts include harassment, intimidation, aggressive contact, stalking, bullying, destruction of property and more.
Q: Is writing a workplace violence policy the best way to prevent workplace violence?
A: While developing a written policy is a crucial action, it is just one step in the process of overcoming workplace violence. Your company also needs to put into place additional steps that allow you to:
Communicate internally and externally
Handle threat information when it's received
Provide training and awareness of policies, procedures and more
Recover from any violent events that occur in your workplace
Respond appropriately to threats
Review your programs and policies and make periodic updates
Q: Why should we spend time and money on workplace violence policies and procedures? Violence in our workplace isn't a major problem and any violence that occurs isn't costing us much.
A: Statistics from a few years ago suggest that annual workplace violence costs businesses more than $36 billion a year in productivity, jury awards, shareholder value, worker's compensation claims and management time. That's a huge incentive to put a program in place. In addition, experts say that every dollar invested in workplace violence prevention saves companies more than $25.
Q: How difficult is it to put a workplace violence program in place?
A: Companies find common problems as they begin building a program, such as:
A lack of understanding of the scope and severity of the ongoing violence occurring in their workplace
Difficulty in gaining support for the program from management or owners
Insufficient funding to fully implement the program
Not enough staff are allocated to implement the program
Not enough time allocated to fully develop the program
Before starting the process, be aware of the pitfalls and work to overcome them so they don't slow or stop development.
Q: Many of our company's employees are currently working from home, so can we stop worrying about workplace violence?
A: No, definitely not. There is evidence that suggests there may be more stresses for everyone to deal with as workers and their families or housemates struggle with isolation. This additional stress can lead to an increased level of violence. Even though events aren't happening in your physical office, if your workers are involved during work hours, it's still considered workplace violence.
Arm Yourself With Information
Interested in learning more about how to protect your organization and employees from acts of workplace violence? Check out these helpful resources: