Loss Control Insights
The Importance of Lifesaving AED Training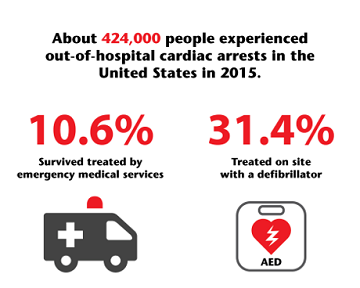 A 41-year-old worker at a heating and air-conditioning systems manufacturer suffered a sudden cardiac arrest (SCA) at work. After three shocks and CPR, he was revived within four minutes. Fortunately, his company had an automated external defibrillator (AED) and trained responders. By the time EMS personnel arrived, he had been resuscitated and was moved to a hospital, and he survived. This story from the American Heart Association illustrates the importance of having CPR and AED trained employees in your workplace.
Who Is Affected by SCA?
Nearly 400,000 people experience SCA each year. When a person experiences SCA, irreparable damage can occur within 4-6 minutes. It takes paramedics an average of 8-10 minutes to arrive. SCA is one of the leading causes of death in the United States. It can happen to anybody, even people who appear perfectly healthy. When it does happen, most people die within minutes if not treated with a defibrillator.
What Is an AED?
An AED is a device that assesses the patient's heart rhythm, determines if defibrillation is needed and then administers the appropriate level of shock. AEDs are easy to use with audible and visual prompts to guide the user through the process. Although they are designed for ease of use, training is necessary to understand the role of defibrillation.
Are Your Employees Trained?
Do you have an AED on your premises and are there enough employees trained in AED usage and CPR? There are no requirements for how many people should be trained, but training as many employees as possible is best. The American Red Cross, American Heart Association and many other organizations can assist you with training employees in CPR and advise you on which AED to purchase. These organizations make the process easy with biannual recertification and AED maintenance checks. Having people trained sends a strong message to employees and customers that you care about their health, and you are prepared to respond quickly should they suffer a cardiac incident.