Loss Control Insights
Understanding the Impact of Workplace Vibration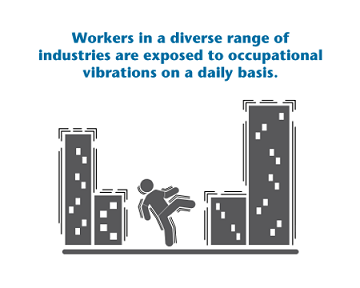 Workers in a wide-range of industries spend part of their day exposed to heavy vibration. This may not seem like a problem but repeated exposure to high levels of vibration can cause injuries to workers. Excessive levels of vibration over time can cause disruption to muscular, nervous and vascular systems that results in numbness, nerve and/or soft tissue damage and fatigue. Many employers are unaware of the risks of occupational vibration until a worker reports side effects.
Two Types of Vibration
There are two different types of vibration that can cause problems: hand-arm vibration and whole-body vibration. Hand-arm vibration is typically associated with occupations that require operating hand-held power equipment such as sanders, saws and impact drills. Whole-body vibration is associated with truck and bus drivers, heavy equipment operators and aircraft pilots.
Controlling Occupational Vibration
Once an occupational vibration hazard is identified, employers can use a variety of strategies to reduce the likelihood of injuries, including eliminating or reducing the hazard and educating workers about the side effects.
Hand-arm vibration can be reduced by:
Replacing current tools with low-vibration tools designed to reduce acceleration levels and cushion workers' hands
Using anti-vibration gloves designed with state-of-the-art materials
Implementing regularly scheduled breaks to avoid constant exposure
Performing regular maintenance on machinery to prevent excessive vibration
Screening workers regularly through a specialized hand-arm vibration medical exam
Measuring and monitoring the vibration of tools so that tools with increasing accelerating levels from age and wear can be repaired or replaced
Whole-body vibration can be reduced by:
Installing reduced-vibration or suspended seats to isolate drivers from the vibration of trucks and other heavy equipment
Isolating vibrating equipment from surfaces where workers are stationed
Count on EMC® to help you assess your occupational vibration risks, recommend appropriate workplace changes to control them and keep you informed about current research on this important workplace safety topic.