Loss Control Insights
Four Hearing Loss Prevention Steps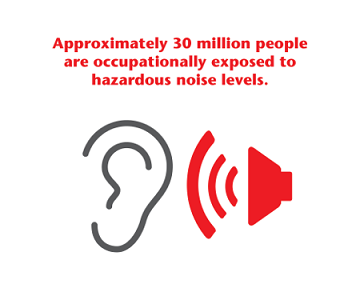 EMC Senior Industrial Hygienist Dave Havick noticed a hazardous situation while on a routine food services inspection: he had to raise his voice to be heard above the sound of chiller units. "If you are three feet apart and have to shout to be understood, your workers are in a hazardous noise environment," said Havick.
Noise-related hearing loss has been one of the most prevalent occupation health concerns in the United States for more than 25 years. According to the Occupational Safety & Health Administration (OSHA), approximately 30 million people are occupationally exposed to hazardous noise levels which can result in permanent
hearing loss. Havick offers these four steps to prevent hearing loss.
Recognize the problem

Many workers are used to loud environments so it is often difficult to determine if they have a hearing loss problem. Remember the rule mentioned earlier: if workers are three feet apart and have to shout to be heard, they are likely in a hazardous noise environment. Be sure to respond to workers' concerns about potential hearing problems.

Remember the hierarchy of hazard control

Personal protective equipment such as earplugs should be used as a last resort. Always investigate ways to remove or replace the noise hazard first, then consider engineering controls to isolate people from the noise hazard or administrative controls to change the way people work. If those options don't eliminate the risk, the use of personal protective equipment may be your only option.

Provide the right hearing protection devices and the appropriate training

Offer workers a variety of hearing protection so they can choose the one best suited for their job. Workers need to be educated on the proper fit and use of hearing protection devices. One common type of hearing protective device is earplugs. In some hazardous noise cases, earplugs may not provide sufficient noise reduction so earmuffs combined with earplugs may be required.

Implement a hearing conservation program

This program is designed to prevent and monitor noise-induced hearing loss and is either required or recommended whenever employee noise exposures exceed a specified sound level. Using state-of-the-art testing equipment, your EMC loss control representative can assess noise levels in your work environment and assist in the development and implementation of a comprehensive program that addresses engineering controls, monitoring and testing procedures, hearing protection devices, training and recordkeeping.
"Hearing loss has always been and will continue to be a workers' compensation challenge for any type of setting, but the problem goes well beyond hearing loss," notes Havick. Research shows loud noises can also create physical and psychological stress, reduce productivity, interfere with communication and concentration, and contribute to workplace accidents by making it difficult to hear warning signals.