Loss Control Insights
Summer Sidewalk Safety Strategies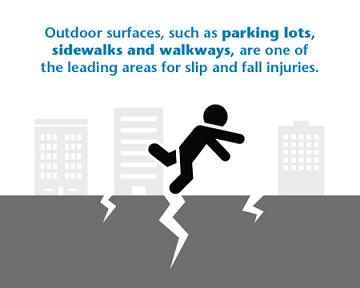 Signs of Stressed Sidewalks and Parking Lots
Uneven edges: Over time, most sidewalks and parking lots will crack or become uneven. Excessive moisture, seasonal temperature changes and tree roots can all lead to sidewalk shifting and fracture. Inspect walkways to identify areas in need of repair. Abrupt changes in elevation of ½" or more should be repaired by slab leveling, grinding or replacement.
Oil spots: Engine oil and coolant residue left on parking lots can present slippery situations in any type of weather, but can easily be eliminated by pressure washing the area. Complete this activity before or after hours to minimize worker and customer inconvenience.
Tire stops: Tire stops can easily be displaced during snow removal operations. Now is a good time to reset stops in their correct position and replace any damaged ones.
Bird baths: Look for potholes and depressions in the pavement where water tends to pool. If not filled and patched now, water in these "bird baths" can refreeze during the winter, presenting potential slip and fall hazards.
Curb edges: Snow, ice and rain often cause paint on curb edges to deteriorate. Make sure elevation changes are clearly marked with slip-resistant yellow paint. Touch up areas where the paint is chipping.
Clean, clean and clean: Sand left over from winter sanding operations, algae growth in shady and wet areas, and mud accumulation can all present hazards. Establish an ongoing program to keep walkways and parking lots clean.
Design problems: Paths in the grass indicate that employees and customers have discovered a quicker way to reach their destination. Walking on dirt or grass paths could present slip and fall hazards, so consider redesigning walkways and sidewalks to eliminate those hazards.
Summer Is the Time to Plan for Winter
No one wants to think about cold weather, but summer is an excellent time to review snow removal procedures. Walking the area in the summer with your snow removal contractor or internal team is a great way to identify obstacles and other issues that might prevent quick and efficient snow removal. Best of all, you'll still have a few snow-free months to address problems you may find.
Count on EMC® for Sidewalk Safety Assistance
Contact your local EMC loss control representative for additional information to keep your sidewalks and parking areas free of slip-and-fall hazards every season. You'll also find the following helpful resources in the Loss Control section at www.emcins.com: