Loss Control Insights
Three Components of Effective Workers' Compensation Claim Handling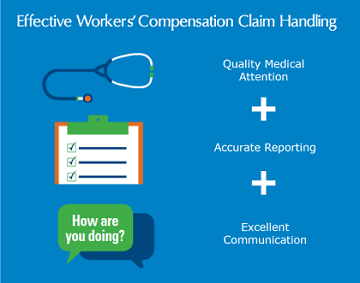 Experts predict this figure will continue to grow. One way employers can control these costs is by implementing a select provider program. Such programs provide educational tools to improve claims handling procedures, select qualified and reputable medical providers and formalize a workplace injury process. EMC's Select Provider Program helps employers better control the costs associated with workers' compensation injuries with these three components:
Accurate Reporting

A key to controlling workers' compensation costs is knowing what to do when an injury is first reported. EMC's Select Provider Program helps you manage the first 24 to 48 hours of a workers' compensation claim by providing detailed employee reporting procedures, collecting accurate information and assisting you in finding prompt and appropriate medical care for injured workers.

Quality Medical Attention

EMC has identified medical providers throughout the country that provide quality medical care while maintaining excellent lines of communication. Providers are selected based on their experience in treating workplace injuries, their familiarity with workers' compensation and their training in occupational medicine.

Excellent Communications

The foundation of any successful select provider program is how well everyone understands the role they play in effectively handling workplace injuries. EMC's Select Provider Program stresses an open line of communication between employees, employers, medical providers and claims personnel by providing easy-to-follow policies and procedures every step of the way

As workers' compensation costs continue to rise and impact your bottom line, you can Count on EMC® to offer proven cost-saving programs such as the Select Provider Program to help efficiently and effectively handle work-related illnesses and injuries. Contact your EMC agent today or email claims.spp@emcins.com.