Loss Control Insights
Making Loading Docks Safer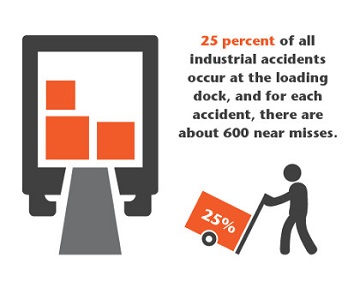 Slip and Fall Danger Zone
Some of the most common loading dock accidents are slips, trips and falls because:
Loading docks are exposed to rain, snow and debris which can easily gather on the floor.
The constant flow of forklift trucks in and out of the loading area creates the potential for leaking truck fluids on the floor.
Packing materials such as paper, plastic, metal bands and clips often litter the floor of busy loading docks.
The concrete floors often found in loading dock areas tend to be slippery when wet.
The typical loading dock is 48 to 52 inches off the ground which presents a hazard on the edge.
Loading Dock Safety Best Practices
The first step in making loading docks safer is to conduct a thorough risk analysis of your facility. Other best practices include:
Making sure all personnel are trained in dock safety and the proper use of dock plates and levelers.
Assigning cleaning and maintenance of the loading dock floor to shipping/receiving personnel.
Only allowing trained, authorized employees to operate powered hand trucks, hand jacks or forklifts.
Using reflective yellow paint to outline the edge of the loading dock and training employees to stay clear of edges.
Keeping the dock area free from moisture (e.g., rain, snow and truck fluids) at all times, and providing a dock seal or shelter to keep floors dry.
Using some type of barricade to prevent accidental dock run offs when not in use. They can range from powered mechanical arms to simple safety ropes or chains.
Keeping the loading dock area well lit at all times.
Including a section in your employee handbook to clearly state that the loading dock is not a "quick" exit for employees— no jumping off the loading dock.
Each year, 20,000 people are seriously injured in loading dock accidents. Ten percent of all workers' compensation losses are a result of those accidents, according to a study by Vestil, Inc. Take action today to help prevent accidents from happening on your dock. Check out this EMC online resource for more tips about loading dock safety: