Loss Control Insights
Reducing Distracted Driving Accidents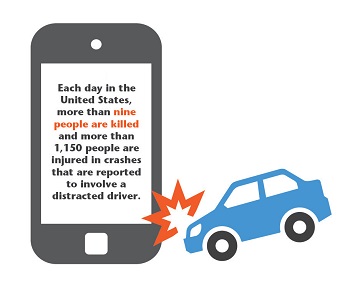 As you balance the need for efficiency with safe driving habits, consider the following:
At any given moment, approximately 600,000 drivers are using cell phones or electronic devices while driving. (National Occupant Protection Use Survey)
Your risk of a crash increases three-fold when using handheld portable devices. (Virginia Tech Transportation Institute)
Each day in the United States, more than nine people are killed and more than 1,150 people are injured in crashes reportedly involving a distracted driver. (National Highway Traffic Safety Administration)

You can help be part of the solution. Write a distracted driving policy and educate your workers to avoid possible liability costs. For example, an executive order was issued in 2009 prohibiting federal employees from texting while driving on government business or with government vehicles. EMC Insurance Companies tells employees that engaging in any distracted driving activity could result in severe consequences, including immediate discharge.
As companies continue to introduce new devices, fleet operators will have to train drivers on how to use that equipment safely.
Count on EMC® for the following distracted driving training resources: