Loss Control Insights
7 Myths About Floor Care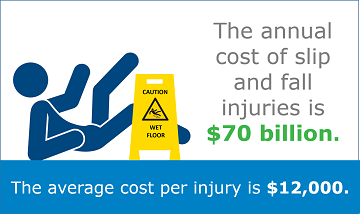 Myth 1: Some Floors Are Just Naturally Slippery
Some flooring material is more slippery than others, but there are traction treatments available that can add needed friction to a floor's surface. So rather than the expense of replacing a slippery floor, building managers can invest as little as 25 cents per square foot to easily apply these treatments every three to five years.
Myth 2: As Long As The Floor Looks Clean It Should Be Safe
It may look clean, but the soap that dries on floors may be absorbed into the floor (depending on the floor material) and decreases friction over time. A general rule of thumb is that any cleaning product used on a floor should be removed with a good rinse before it dries.
Myth 3: Floor Care Equipment Is Expensive
Purchasing an extractor that removes the soap layer on a floor may cost $3,000 to $5,000. However, that investment is just a quarter of the cost of one slip and fall injury.
Myth 4: Cleaning Floors Does Not Require Any Special Training
Improper cleaning of floors can lead to slips and falls. Too much concentration of soap can result in residue buildup. Not rinsing the floor thoroughly after applying soap can also lead to slip and fall accidents. To eliminate these and other problems, train workers on proper floor care procedures and provide them with the right equipment for the job.
Myth 5: All Floors Are The Same
Each type of floor surface requires special treatments to keep it safe. For example, special cleaning products have been developed for ceramic tile and stone, and the use of oil on wood flooring is not recommended. Refer to the manufacturer's recommendations to ensure the safety of your floors.
Myth 6: A Clean Floor Is An Aesthetic Issue
True, having clean floors improves the appearance of any facility. In a retail setting, clean and shiny floors may even enhance merchandising efforts. But having a properly cleaned and maintained floor is really a loss control issue. By taking the time and effort to provide a safe walking surface for employees and visitors, you'll reduce the frequency and severity of costly slip and fall injuries.
Myth 7: There Are No Standards For Walking Surface Safety
OSHA's Walking and Working Surfaces (29 CFR Part 1910) creates industry standards for employers to follow that "protect employees from slips, falls, and trips." The rules were developed in the 1980s but were somewhat vague and not comprehensive. In recent years, ASTM International and the American National Standards Institute/National Floor Safety Institute have developed a series of consensus voluntary standards that EMC follows when evaluating floor safety.
Count on EMC® To Help Keep Your Floors Clean And Safe
Using state-of-the-art tools, EMC loss control representatives can analyze the traction of your floors and instruct you on proper floor maintenance procedures. In addition, check out these online resources.