Loss Control Insights
Protecting Your Business From Flood Damage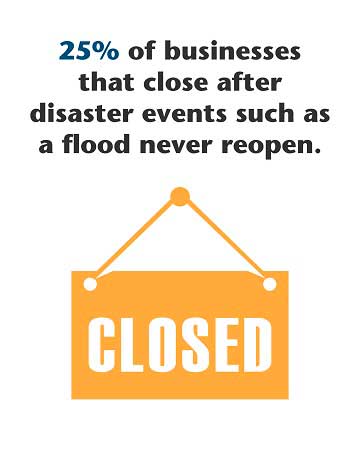 Prepare Ahead of Time:
Hire a licensed electrician to raise electrical components (e.g., switches, sockets, circuit breakers and wiring) at least 12 inches above the expected flood levels for your area.
Make sure your property's grading (slope) directs water away from any buildings.
Elevate your furnace, water heater and other permanent equipment above the expected flood levels for your area.
Respond When Flooding Is Imminent:
Clear drains, gutters and downspouts of debris.
Move furniture and electronics off the floor, particularly in basements and first floor levels.
Prepare an evacuation kit that holds important papers, insurance documents and other items you may need if you are forced to leave your business for several days.
Shut off electrical service at the main breaker if the system and outlets will be under water.
Recover After Flooding:
Make sure all electricity is turned off before stepping into water.
As soon as it is safe to do so, disconnect all electronics/electrical equipment and move it to a dry location.
Remove as much standing water as possible from inside the building.
Remove water-damaged materials immediately.
Ventilate with fans or use dehumidifiers to dry out working areas. Acting quickly can increase the chance of salvaging usable materials and reduce the amount of rust and mold that might develop.
Count on EMC® for more online disaster and emergency preparedness resources.