Loss Control Insights
Ergonomics for the Mobile Worker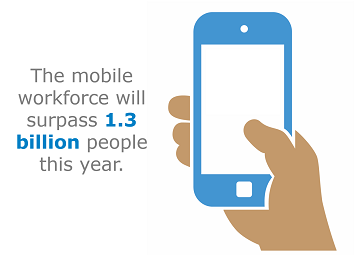 Achieving the Ideal Work Posture in a Nontraditional Work Environment
Thanks to advancements in ergonomic office furniture design, achieving the ideal posture is much easier in the traditional office environment. Mobile workers should try to mirror that position as much as possible when on the road. This means their feet should be firmly supported on the floor, their knees should be at a 90-degree angle, their hips should be at a 90- to 110-degree angle, and the top of their computer screen should be just below eye level. Here are some tips on how to achieve this ideal position when working from a hotel room:
If the hotel chair is too low, use pillows or blankets to boost yourself up.
If the chair is too high, use a phone book, briefcase or blanket as a footrest.
Use an ironing board as a work surface for your laptop.
Use a seat cushion to raise the laptop on a hotel desk.
Consider purchasing a folding work station, an adjustable laptop stand or other products to improve your posture in a hotel.
Taking Ergonomics on the Road
According to a recent study, if workers drive four or more hours a day, they are six times more likely to develop back problems. Follow these tips to alleviate those problems:
Adjust the seat to the proper height and angle at the beginning of a trip, especially if driving a shared or rental vehicle.
Avoid driving with only one hand. This can put stress on the wrist and shoulder.
Avoid propping the left arm on the window. This can cause arm and shoulder fatigue.
Take a five-minute break every one to two hours.
Reach for items like briefcases and boxes only after getting out of the vehicle.
Be Ergonomically Smart When Using Mobile Devices
Cell phones and tablets can make work more efficient, but workers are more likely to suffer a musculoskeletal injury if they don't use them properly.
Avoid awkward neck positions when using a cell phone.
Increase the text size on mobile devices to avoid eye strain.
Prop up tablets for prolonged reading and use a Bluetooth® keyboard when typing for long periods of time.
Take frequent breaks to stretch fingers and wrists to prevent discomfort and strains.
Educate Mobile Workers
Not only will educating your mobile workers about these strategies help make them more comfortable, it can also enhance their productivity, reduce the likelihood and severity of musculoskeletal injuries, and help control healthcare costs. Encourage your mobile employees to visit the Ergonomics and Back Safety page on our website for more information.