Loss Control Insights
The Top Five DOT Compliance Issues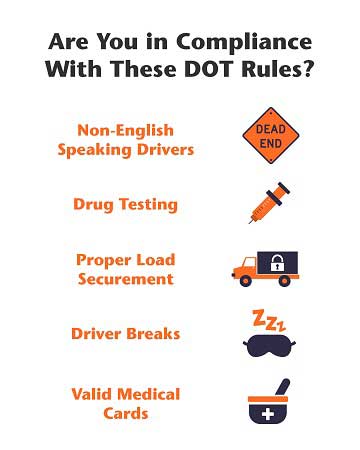 EMC Engineering Specialist Kevin Clayton identifies the top five compliance violations that can easily be avoided through proper driver education and inexpensive management controls.
Non-English Speaking Drivers
FMCSA regulations require all drivers who operate trucks in the United States to be able to read and speak the English language. You can avoid a fine by making sure drivers have the English language skills to converse with the general public and understand highway traffic signs.
Drug Testing
Five types of drug testing are required under the FMCSA regulations:
Pre-employment drug testing must be performed on all newly hired drivers.
Post-accident drug testing must be performed after an accident where a death occurred; when a driver is cited for a moving violation and the accident resulted in someone requiring medical treatment away from the scene of the accident; and when a driver is cited for a moving violation and one or more vehicles have to be towed from the scene of the accident.
Random drug testing must be completed on an annual basis on a percentage of drivers. This rate can change annually and varies depending on which DOT agency regulates your industry.
Reasonable suspicion drug testing must be conducted if there is reason to believe a driver's behavior may indicate drug or alcohol use.
Return-to-duty and follow-up drug testing is required for any driver who has tested positive for drugs and/or alcohol or refused to be tested before returning to work.
Proper Load Securement
FMCSA regulations specify that all cargo must be secured to the vehicle to prevent it from falling off and causing accidents, injuries or fatalities. In most cases, the cost of an unsecured load fine is more than the cost of straps, chains, cargo bars, nets and other equipment needed to properly secure the load. This regulation also applies to pickup trucks and utility trucks.
Driver Breaks
A more recent FMCSA regulation limits the maximum average work week for truck drivers to 70 hours. The regulation allows truck drivers who reach the maximum 70 hours of driving within a week to resume driving if they remain off duty for 34 consecutive hours, including at least two nights from 1-5 a.m. Drivers are also required to take a 30-minute break during the first eight hours of a shift.
Valid Medical Certificate
According to FMCSA regulations, commercial driver's license (CDL) holders must carry their Medical Examiner's (ME) Certificates with them at all times and provide a copy to their state driver licensing agency. Drivers who allow their ME certificate to expire will not be eligible to drive a vehicle that requires a CDL.
"These are just five of the most common compliance issues I encounter when working with policyholders," notes Clayton, who recommends companies review the full list of FMCSA regulations covering everything from civil rights to safety and health standards. "Your EMC loss control specialist can also provide guidance on complying with these regulations," Clayton adds.
Need more ideas for implementing fleet and driver safety programs? You'll find a full set of loss control resources on EMC's website.