Loss Control Insights
Tackling Loss Control One Month at a Time in 2015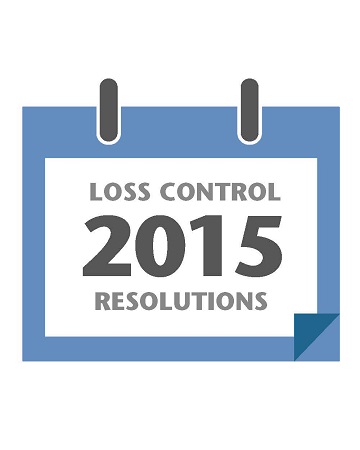 EMC Engineering Services Supervisor Chad Veach admits that implementing a comprehensive loss control program can be a daunting task for many organizations. "You don't have to do everything at once," he advises. EMC risk improvement professionals like Chad can help you establish a plan to tackle the task of loss prevention in your facility.
January: Prepare for and Protect Property From Winter Weather
In recent years, record snowfall and cold temperatures from Arizona to New England have resulted in roof collapses, frozen pipes and ice dams that have caused water intrusion and damage. Start the New Year right by implementing loss control practices to reduce winter weather damage to your building and its contents and the disruption of business operations.
February: Complete a Risk and Vulnerability Assessment
The starting point for most businesses to plan for disaster is completing a risk and vulnerability assessment. This is the process of identifying, quantifying and documenting the probability and overall severity of various types of threats or hazards that could damage your facility and cause disruption to your business (e.g., natural events; human, technological or security factors; accidents or the loss of key personnel). EMC can assist in this process with loss analysis services.
March: Identify Recovery Priorities
While planning for possible disaster, you should focus first on your most important business functions, which should be your recovery priorities. Once you have identified which business functions need to be restored most quickly if your business suffers a loss, start putting measures in place to protect and/or duplicate these functions in a secure location.
April: Protect Against Flooding
Springtime rain and melting snow increase the threat of flooding in many parts of the country. While proximity to water is the number one risk factor for flooding, you can take steps to reduce the severity of flood damage and to protect your equipment and inventory. Visit the Federal Emergency Management Agency's website to learn more.
May: Schedule a Roof Inspection and Develop a Maintenance Plan
Your roof is the first line of defense against the elements, making it one of the most vulnerable points on a commercial building. A compromised roof can result in significant damage to internal fixtures, furniture and equipment. Rooftop equipment or pieces of the roof itself can also take flight during a windstorm, causing damage to the building, nearby vehicles or neighboring property.
June: Protect Against High-Wind Damage
Recent storms make it clear that hurricanes are not just a coastal problem—they can travel hundreds of miles inland and cause significant damage to noncoastal areas. Take steps this month to protect your business against high winds. Go beyond the roof and schedule an inspection of the building's exterior and make any needed repairs, such as filling gaps to keep wind-driven rain out and trimming branches or removing weak trees. EMC offers several online disaster planning tools to help you prepare.
July: Inspect Your Building and Make Repairs
Summer is a good time to get outside and inspect your premises to identify any problems such as damaged gutters and drainpipes, broken windows or minor leaks. Repairing issues now can prevent even more damage in the event of a severe storms or high winds. The summer months are also a good time to consider lightning protection.
August: Inspect and Repair Wiring and HVAC Systems
Not all losses are weather-related—faulty wiring, heaters and HVAC systems can cause internal fire or water damage. Conduct a comprehensive internal site inspection to identify possible maintenance issues that need to be addressed. Also, consider implementing a plan to make sure all employees are aware of electrical safety practices.
September: Protect Data Centers
Information technology is the lifeblood of many businesses; however, both data and equipment are at risk if you do not take steps to protect them from weather and other causes of loss. Take time this month to review the systems you have in place to protect your data center and the equipment your employees use to receive, transmit and store information. It also is critical to include data protection and access in your business continuity plan.
October: Learn the Benefits and Risks of Using Generators
Power outages resulting from man-made or natural disasters can disrupt your business operations. This month, consider the costs and benefits of a generator. Don't forget about proper maintenance and safe operation if you expect the generator to work when it's needed most.
November: Prepare for Winter Storms
Make preparations now for the coming winter. As part of a fall cleanup campaign, make sure gutters are clear of debris, outdoor sprinklers and pipes are drained, and your snow removal plan is in place.
December: Work Together to Get Prepared
The holidays are a good time to remember the critical role your employees play in your organization's success. Likewise, they need to be a critical part of your business continuity planning and your organization's recovery in the event of a loss. This month, think about how you can communicate with your employees about your expectations following a disaster. Use this time to provide them with information about how they can strengthen their homes and communities against the risks that threaten them.