Loss Control Insights
Ladder Safety in Cold Weather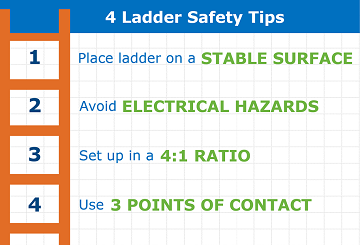 Working on a ladder presents potential safety risks year-round, but the likelihood of an accident increases during the winter months. Wet or frozen ground, ice or snow-covered rungs, and heavy clothing can make any job on a ladder more challenging.
According to a report from the Consumer Public Safety Commission, more than 90,000 people receive emergency room treatment for ladder-related injuries every year. A majority of those injuries are caused by failure to take precautions when using a ladder during the winter months.
Outdoor Winter Tasks That Require a Ladder
There are plenty of outdoor tasks workers need to perform in the winter that require a ladder. These may include:
Removing snow from the roof or outdoor storage areas such as shelving
Hanging (or removing) holiday lights
Updating information on signage
Checking gutters, pipes or electrical connections
Changing light bulbs
Removing dangling tree limbs
Other tasks specific to your business
Unique Winter Hazards
Winter ladder safety is not necessarily about adopting new safety habits. Instead, it focuses on being diligent about the precautions you should take anytime you work on a ladder.
For example, when the ground is covered with snow and ice, workers need to pay more attention to the surface on which the ladder is placed. They also need to check extension ladders that have been left out overnight in cold temperatures to make sure they are safe to use.
Winter Safety Tips When Using a Ladder
Climbing ladders requires both stability and balance—both of which can be compromised by winter conditions. Ladders can be unstable when set on a bed of ice or snow, so make sure the area is cleared each time a ladder is placed on the ground.
Employees wearing bulky winter clothing may be less steady than normal. They may also be tripped up by slippery conditions. Those wearing thick gloves, puffy jackets or heavy coveralls may need to temporarily shed a layer before climbing a ladder. Since boot ridges often hold snow or debris, workers must check them before stepping onto the first rung.
Be wary of ladders that are permanently or semi-permanently installed for outdoor use. A light, barely visible frost layer on the ladder may trip up a worker. Require workers to check carefully before stepping on any outdoor ladder during cold and wet weather.
Whenever possible, use alternative tools and equipment as a substitute for ladders in the winter. Cherry pickers, scissor lifts or a forklift with a work platform may be safer and more efficient. If workers must climb ladders, supply appropriate fall protection such as slip-resistant boots and ladder steps, safety harnesses or guard rails.
Ladder Safety Tips for All Seasons
Here are some additional ladder safety tips that work for all seasons:
Avoid electrical hazards and be aware of overhead electrical lines
Always inspect the ladder prior to using it
Never work from the top of the ladder or the rung right below the top
Always maintain three points of contact with the ladder (e.g., two hands and one foot, or two feet and one hand)
Always face the ladder while climbing and descending
Only use the ladder and appropriate accessories for their designed purposes
Make sure ladder steps/rungs are free of slippery material
Make sure the ladder is on a stable and level surface
Don't place ladders on boxes or barrels to obtain additional height
Maintain proper angle ratio of a 4:1 height to base ratio
Make sure the ladder is placed in an area where it won't get knocked over
Don't exceed maximum load rating of the ladder
Make sure extension ladders extend three feet above the point of support