Loss Control Insights
Protect Your Commercial Property From Lightning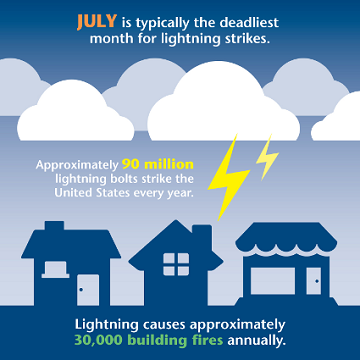 Lightning accounts for more than two billion dollars annually in structural damage to buildings in the United States. In addition to property loss, lightning damage to robotics, communication lines and computer equipment can result in extended downtime for your organization. As a result of multiple service entrances, the use of isolated metal building components and the costly high-tech equipment housed within, most buildings simply are not designed to withstand a lightning strike, notes the Insurance Institute for Business & Home Safety (IBHS). EMC loss control experts agree with IBHS recommendations that a custom-designed lighting protection system and surge protection is your best defense against lightning.
Give Lightning the One-Two Punch
Protecting your commercial property from lightning requires two strategies: a certified lightning protection system and surge protection.
Certified lightning protection system—Properly designed and installed lightning protection systems provide a specified path to harness and safely ground the super-charged current of a lighting bolt. Because every building is unique, your system should take your risk factors into consideration, including location, frequency of thunderstorms, soil composition and building occupancy.
Surge protection—Proper selection and installation of surge protection devices can protect electrical and electronic equipment from lighting and other surges that can enter a building through the electric, telephone, data or other wires from outside.
Protect Your Employees
Outdoor workers account for about one-third of the total number of people struck by lightning. Roofers, construction workers, road crews, pipefitters and farm workers are especially at high risk. EMC offers the following tips for keeping workers safe during a lightning storm.
All employees should understand your company's lightning safety plan, including what shelters are available to them at a particular worksite.
If you hear thunder, the associated lightning is within eight miles. So a good lightning safety motto is, "If you can see it (lightning), flee it; if you can hear it (thunder), clear it."
If caught outside during a lightning storm, immediately remove all metal objects, place your feet together, duck your head and crouch down low with hands covering your ears.
Wait a minimum of 30 minutes from the last observed lightning or thunder before resuming normal work activities.
Count on EMC® to help you take the right steps to protect your property and employees with an effective lightning protection program that will save lives and money.
Connect to More Information:
Institute of Business & Home Safety
National Lightning Safety Institute
What To Do Before, During And After Thunderstorms

EMC Tech Sheets:
Lightning Protection
Lighting Safety For Outdoor Workers
Lightning Safety For Outdoor Events
Electrical Surge Protection