Community Involvement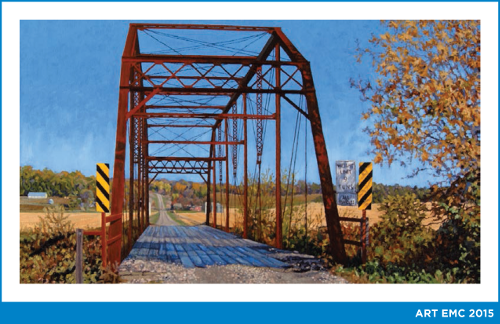 Art EMC
EMC is currently accepting entries for its fifth biennial Art EMC competition through May 5, 2013! Entrants may enter in one or two categories: abstract and/or representational. Artists must submit three entries in one or both categories, up to a limit of six entries. Learn more.
Art EMC, a project initiated by the EMC Art Committee in 2005, directly supports and involves EMC employees in the visual arts. Iowa artists submit artwork for the opportunity to be purchased as part of EMC's permanent art collection and included in our virtual art gallery. EMC employees take part in the selection process by voting through an online poll.

Organizations We Support
EMC Insurance Companies places an emphasis on enhancing the quality of life in the communities we serve. The company and its employees throughout the country are actively involved in the United Way by donating both time and money. The company supports numerous organizations in central Iowa, where the corporate headquarters and Des Moines branch office are located:
American Institute of Business (AIB)
Blank Children's Hospital
Blank Park Zoo
Central Iowa Shelter & Services
Children & Familes of Iowa
ChildServe
Civic Center of Des Moines
Des Moines Area Community College (DMACC)
Des Moines Botanical Center
Des Moines Playhouse
Des Moines Symphony
DMARC Food Pantry
Drake University
Iowa College Foundation
James B. Morris Scholarship Fund
Junior Achievement
Living History Farms
Oakridge Neighborhood Services
Polk County Housing Trust Fund
Read With Me
Salisbury House
Science Center of Iowa
Variety Club
YMCA



EMC's branch and service offices also donate time, money and supplies to numerous organizations in their local communities.
EMC Insurance Foundation
The EMC Insurance Foundation was established to review philanthropic requests and to continue our ongoing efforts to improve the communities in which we live and work. The Foundation is a strong supporter of insurance education.
Insurance Education Support
EMC Insurance Companies has made a commitment to the insurance industry by sponsoring the Kelley Insurance Center at Drake University in Des Moines, Iowa. The Kelley Insurance Center provides assistance to college students by helping them obtain a degree in insurance and is dedicated to the development of careers in the insurance industry.
100 Ways of Giving
In celebration of our 100-year anniversary in 2011, EMC Insurance Companies distributed $200,000 to nonprofit organizations through our 100 Ways of Giving program.
The EMC Insurance Foundation awarded $1,000 grants to 91 nonprofit organizations selected by top EMC insurance agencies. Those nonprofit organizations then competed through a 100-day online public voting campaign on www.CountonEMC.com for one of four additional $25,000 grants. The foundation awarded the additional grants based on the public votes and a review of categories for each organization, including overall community impact, organizational support and the population served. The remaining $9,000 was divided between the six other organizations that received the most votes out of the nearly 1 million votes that were cast.