Celebrating 100 Years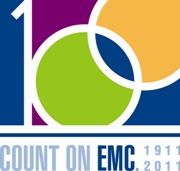 This year, we celebrate 100 years in business, proving that EMC has stood the test of time—providing comprehensive protection, superior service and financial security to its policyholders, agents and employees. Our company offers property and casualty insurance products and services throughout the United States, and writes reinsurance contracts worldwide.
Visit CountonEMC.com
Take a decade-by-decade tour through EMC's history on our special 100-year website, www.CountonEMC.com. This historic timeline offers interesting facts and remarkable images describing our company's journey starting in 1911. You'll find information on EMC leaders, branch offices, products and services, and milestones leading up to our 100-year anniversary. Click the "play" button on the homepage to view our 100-year video.
100 Ways of Giving
Early this year, the EMC Insurance Foundation awarded $1,000 grants to 91 nonprofit organizations selected by top EMC insurance agencies in the 100 Ways of Giving program. Those nonprofits competed through online public voting on www.CountonEMC.com for one of four additional $25,000 grants. The foundation awarded these grants based on the public votes and a review of categories for each organization, including overall community impact, organizational support and the population served. The remaining $9,000 was divided between the six other organizations that received the most votes out of the nearly 1 million votes that were cast. Visit www.CountonEMC.com for more information.
Celebrate With Us
Count on EMC® represents the core values upon which EMC Insurance Companies has built its reputation. We've delivered on our Count on EMC promise for 100 years, and that's not about to change.
We celebrate our past achievements and enthusiastically look forward to a future of success yet to come. We invite our employees, agents and the communities in which we live and work to join us in this celebration.