EMC Insurance Companies uses print ads, radio and billboards to advertise our strengths to agents and to the general public. We also participate in school programs and sports marketing in select areas.

EMC's 2011 print ads celebrate the 100-year anniversary of EMC Insurance Companies. Although we are celebrating the past 100 years of success, we are also planning for the future. The trade ads feature EMC employees from the home office and branch locations who work in underwriting, claims, marketing and risk improvement. The ad campaign also features EMC's Vice President of Branch Operations, Jason Bogart. The print ads are featured in more than 30 national and state publications.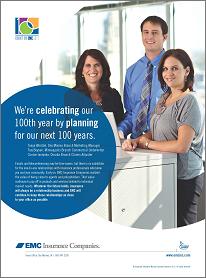 EMC runs radio ads in the Des Moines market and other selected markets in the country. The "voice of EMC," who is an EMC employee, explains hazards at home and work—and she makes suggestions on how to make your life safer. Click the links below to listen to our radio ads:

The billboard below highlights EMC's 100-year anniversary in 2011.


School programs directly support EMC's policyholders and the school systems in Iowa and Kansas. Read with Me! in Des Moines and Reading Caravan in Wichita are designed to promote the importance of reading to elementary school students.
Each month, EMC gives $500 to a school in each of these viewing areas for use in its library. Parents and teachers send entries explaining the reason why their child's school or class should be awarded the $500 prize from EMC. Winning participants are featured on the news—KCCI News Channel 8 in Des Moines or KAKE-TV in Wichita.

EMC uses sports marketing to extend our
Count on EMC
®
brand to external audiences—to improve corporate awareness in the communities in which we do business and to help our agents sell our products by increasing our name awareness.
The Charlotte, Chicago, Des Moines and Milwaukee Branches currently participate in our sports marketing program.
Chicago Cubs Baseball
Drake Bulldogs Men's and Women's Basketball and Football
Iowa Hawkeyes Football and Men's Basketball
Iowa State Cyclones Football and Men's Basketball
Milwaukee Brewers Baseball
The branches vary in their level of involvement (signage, radio ads during the game, pre or postgame commercials, etc.), as well as the sports during which they advertise.